What is AAPI Heritage Month?
Asian American and Pacific Islander Heritage Month is celebrated annually from May 1st to the 31st. This is to commemorate the contributions made by Asian American and Pacific Islanders who call America home. AAPI consists of various cultural and ethnic backgrounds.
Though many strides are being made to highlight the AAPI community, we must acknowledge that the Asian American and Pacific Islanders community still face cultural barriers that include but are not limited to; systematic bias, anti-Asian violence, and microaggressions that make it hard for them to progress in their careers or even general life goals. On this basis, it is important for all of us to be intentional, especially in this month to educate ourselves and position ourselves as allies of the AAPI.
---

The way to honor and celebrate the AAPI this month is to expand our knowledge of this minority community's unique contributions and challenges; it is also an opportunity to celebrate them and make a commitment to understand them and foster inclusion and partnerships. AAPI Heritage Month is not just for Asian Americans and Pacific Islanders, it is for every single American.

---
The month of May was selected, because it marks the immigration of the first Japanese people to the U.S. on May 7, 1843, and because it recognizes the significant contribution by Chinese workers on the transcontinental railroad, a colossal undertaking that was completed on May 10, 1869.
The efforts to officially recognize Asian American and Pacific Islander contributions to the United States began with former congressional staffer Jeanie Jew and Ruby Moy, Horton's Chief of Staff who first approached Representative Frank Horton about the idea of designating a month to recognize Asian Pacific Americans, following the United States' bicentennial celebration in 1976. In 1977, Representative Frank Horton and Norman Y. Mineta introduced a resolution to propose an Asian/Pacific American Heritage Week in May. A month later Senator Daniel Inouye and Spark Matsunaga introduced a similar bill. Both resolutions ultimately failed.
With determination the following year Rep. Horton introduced a House Joint resolution which requested the president to proclaim a week during the first 10 days of May starting in 1979, including May 7 and 10, as Asian/Pacific American Heritage Week. When the House and Senate passed the Resolution, it was then that President Carter signed it into Public law on October 5th,1978. This would be an annual proclamation from 1980-1990 signed by each president.
---

"To celebrate an entire culture in a month is like trying to hold the Ocean in a bucket"

---

JOANA IVA FAWCETT
It would take a decade before the month would be recognized fully when in 1992 President George H.W Bush designated the month of May as Asian Pacific American Heritage Month thus Asian/Pacific American Month was born. On May 1, 2009, President Barack Obama signed Proclamation 8369, recognizing the month of May as Asian American and Pacific Islander Heritage Month.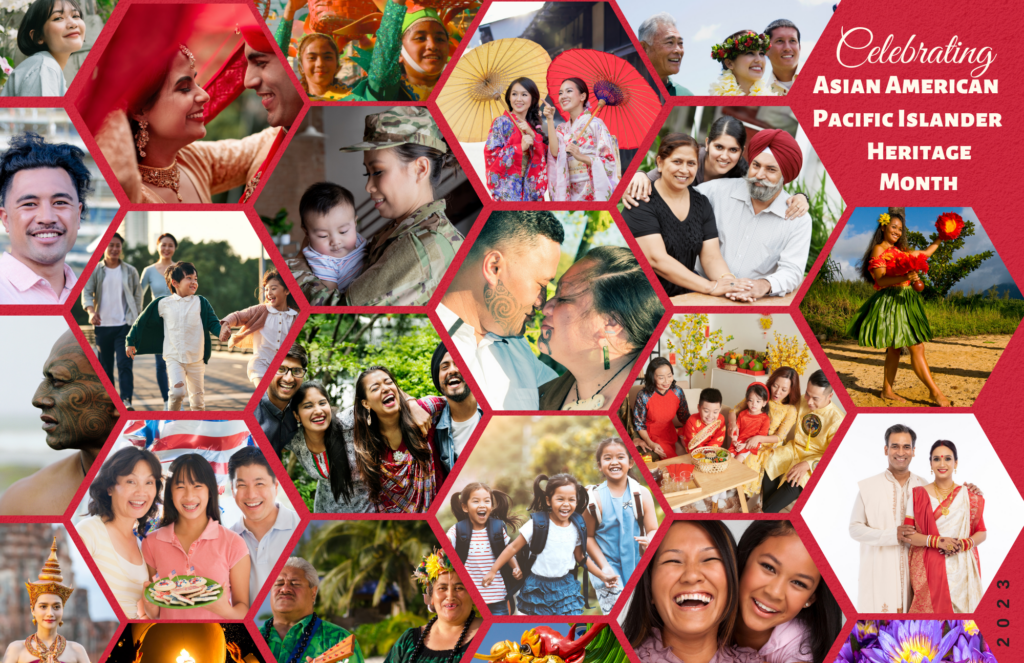 "To celebrate an entire culture in a month is like trying to hold the Ocean in a bucket" said Joana Iva Fawcett, (Dean for Social Justice Leadership & Community Empowerment at Gonzaga University), and yet the proud legacy forged by the Asian American Pacific Islanders reflects the spirit of the American people, a country that values the contributions of everyone who calls America home.
During Asian American and Pacific Islander (AAPI) Heritage Month, we honor the perseverance of those who courageously reached for their hopes and dreams in a new land, and we celebrate the important impact the AAPI community has made. As we commemorate Asian American and Pacific Islander Heritage Month, we pay tribute to all those in the AAPI community who have striven for a brighter future for the next generation.
Read about some of the Trailblazers in the Asian American Pacific Islander community here.
---
These are some of the nations that make up the AAPI community.
Asians and Pacific Islanders include people of Asian, Asian American, or Pacific Islander ancestry who trace their origins and identities to the countries, states, or jurisdictions and/or the diasporic communities of the following geographic regions:
Central Asia: Afghani, Armenian, Azerbaijani, Georgians, Kazakh, Kyrgyz, Mongolian, Tajik, Turkmen, Uzbek.
East Asia: Chinese, Japanese, Korean, Okinawan, Taiwanese, Tibetan. Hawai'i and Pacific Islands: Carolinian, Chamorro, Chuukese, Fijian, Guamanian, Hawaiian, Kosraean, Marshallese, Native Hawaiian, Niuean, Palauan, Papua New Guinean, Pohnpeian, Samoan, Tokelauan, Tongan, Yapese.
Southeast Asia: Bruneian, Burmese, Cambodian, Filipino (also regarded as Pacific Islanders), Hmong, Indonesian, Laotian, Malaysian, Mien, Singaporean, Timorese, Thai, Vietnamese.
South Asia: Bangladeshi, Bhutanese, Indian, Maldivians, Nepali, Pakistani, Sri Lankan.
Native Hawaiian and Other Pacific Islander (NHOPI) include those within the U.S. jurisdictions of Melanesia, Micronesia, and Polynesia.
Melanesia: (New Guinea, New Caledonia, Vanuatu, Fiji and the Solomon Islands)
Micronesia: (Marianas, Guam, Wake Island, Palau, Marshall Islands, Kiribati, Nauru and the Federated States of Micronesia)
Polynesia (New Zealand, Hawaiian Islands, Rotuma, Midway Islands, Samoa, American Samoa, Tonga, Tuvalu, Cook Islands, French Polynesia and Easter Island).
---