Our theme for the 2022-23 academic year at Ivy Tech Community College Indianapolis is to E.M.B.R.A.C.E. Indy. As Indiana's statewide community college, Ivy Tech truly takes to heart just what this means and as the chancellor of the Indianapolis campus, I can attest that the weight of this responsibility isn't taken lightly. Our Ivy Indy campus kicked off the academic year last fall, with a renewed sense of what it truly means to serve our community. Now as we celebrate Black History Month, I am once again reminded of the responsibility that we have to E(very) M(oment) B(e) R(eady) to A(ct), C(are), and E(levate) Indianapolis.
I am proud to join in celebrating our Black faculty, staff, students, and alumni and their many contributions to our campus, our communities and the world. Our Indianapolis campus has the most diverse student population of any Ivy Tech campus and the third most diverse student population of any higher education campus in Indiana. Throughout Ivy Indy's history, Black alumni, faculty, and staff have been integral to the advancement of our mission. While we honor Black History Month one month out of the year, Ivy Tech Indianapolis remains committed to the Black community and diversity and inclusion year-round.
One of the many ways that we're working to achieve the last part of our mission is the recent launch of our ELEVATE: Change Starts Here program which focuses on providing education and training for justice-involved individuals. We are especially proud to be strategically and actively engaged in this initiative that creates more equitable pathways to education and training and to help lead the way in bridging the access gap for so many. This program also provides access to community resources, and wrap-around services to help reduce the recidivism rate from a holistic approach. Program participants will be prepared for high-wage, high-demand careers in Marion, Boone, and Hendricks Counties.
This work is so important for our community and aligns with our strategic goals and vision to be a "Campus Without Walls." When we say no walls, we mean making education accessible for all. When we say no walls, we mean being bold and partnering with our community to address the issues that our community faces. When we say no walls, we mean it: no walls, no barriers, and no excuses. At Ivy Tech, we transform lives.
This transformation even begins at the high school level. Dual credit is an affordable option for high school students to begin earning college credentials/credits, but it is also necessary to introduce college as a viable option to them earlier in an environment where they can experience academic success early.
We know, based on research, that Black students who take dual credit courses in high school are more likely to graduate college on time. In response to our efforts to increase the college-going rate of Black males, the Indianapolis K-14 team focuses on increasing awareness of concurrent enrollment opportunities within our high schools. We are leveraging internal tools such as Level-Up to improve our students' reading, writing, and math skills. Furthermore to improve community awareness, our team hosts info sessions for students and parents to increase awareness of dual enrollment and the ease of enrolling.
Our efforts to immerse our campus ever deeper into our local community are not just through programs and courses, but also in the day-to-day operations. In January, we were thrilled to formally announce our partnership with Tea's Me Café, which is owned by Tamika Catchings, 4x Olympic Gold Medalist, Hall of Famer, and founder of the Catch the Stars Foundation.
In late 2022, we found our campus in need of exploring new food service providers. It presented us with a unique opportunity to not only think about what our staff, faculty, and students would need and want but what our local community neighbors need and want. With our Indianapolis location being in a food desert, we quickly knew what we needed to create and that was to find food service partners that shared our vision to care about, act on behalf of, and elevate Indianapolis.
Tamika Catching's vision and mission for Tea's Me Café align perfectly with our goals, and we couldn't be more thrilled to partner with her and her team. She is a true role model for all, but especially our students. She exemplifies Black excellence and entrepreneurship, and she feels that it is not just about the cafe, but the student experience and about providing opportunities for the younger generation. Tamika is passionate about young people, our future, and our future leaders and she believes (like we do) that a lot of them will come from our Ivy Indy campus. Tea's Me Café is working collaboratively with Ivy Tech Indianapolis' staff and faculty to provide opportunities to employ our students and partner with our amazing Culinary Program on some initiatives in the future.
Our goal is to provide a local destination for our community to come together: to gather, eat, and engage with one another, and we are doing that through expanded and improved food service options and hours. We want our neighbors to be able to pop in after church on Sunday and grab a bite to eat with friends and family. We want our neighbors to have a communal meeting space for their organizations. We want Ivy Tech Indianapolis to truly be considered a community neighbor and partner.
In conclusion, I would like to circle back to our Ivy Indy mission of E.M.B.R.A.C.E Indy. The book that spurred this mission, The Power of Moments, contained a quote that resonates with me daily.
"The occasionally remarkable moment shouldn't be left to chance. They should be planned for and invested in."
I remember this quote as I go about my daily responsibilities as chancellor and continue to focus on the importance of intentionality, the importance of purpose, and living life on purpose. It is essential. I encourage you to also live your life with intentionality and purpose, for it is through this that we are better neighbors to each other.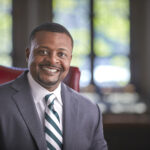 Dr. Lorenzo Lamar Esters is the Chancellor for the Indianapolis campus of Ivy Tech Community College and currently serves as Vice President of Advancement and Member Engagement with the Association of American Colleges and Universities (AAC&U).