Vanessa always believed that she would attend college. She was lucky to receive the 21st Century Scholarship which provided her with the resources to achieve this dream. As a first-generation student, she had to navigate many systems on her own, as her parents were unable to help and she did not have any close family members who had ever attended college. Through her time as an undergrad, she found a community of other first-gen students who helped each other navigate systems and barriers.
"I wanted to make my parents proud and be an example for my younger siblings and show them that a college degree is possible. I knew that I was paving the way for other Latino and first gen students," said Vanessa.
After graduating in 2019 and transitioning into the workplace, she learned that being first-generation doesn't stop once you have achieved your degree. Her lack of professional connections limited her options and she landed up taking on a part-time role
Her outlook began to change when she was offered a full-time position at the same organization. She was blessed to work on a team with two Latina colleagues who quickly became her role models and mentors. They helped her build her professional skills and network and inspired her to dream bigger. She identifies this support as critical to her growth and success.
Latino and Black college students are more likely to be first-generation than their white counterparts, meaning that they are on the path to be the first in their families to complete a college degree. While first-gen college students still lag behind their peers in terms of college completion, in recent years many colleges have increased their attention, supportive services, and celebratory events for first-gen students. One topic that is still often overlooked is that first-gen college graduates become first-gen professionals, who continue to face systemic barriers to success in the workplace especially when they are also part of an ethnic and racial minority group. However, there are ways that employers can support diverse, first-gen professionals to achieve greater success.
Help them identify a mentor.
Many first-gen professionals do not have a trusted adult who can help them navigate new professional situations or who they can go to for advice, encouragement, or constructive feedback.
Pairing diverse, first-gen professionals with a mentor can help them better navigate workplace concerns, build confidence, and begin to establish a multi-generational network. It is important to identify mentors who encourage diverse, first-gen professionals to bring their authentic self to work and help them navigate issues of workplace culture
Support their participation in structured programs.
Whether it is an internal Employee Resource Group or an external development program, diverse, first-gen professionals benefit from new systems of support through these experiences. These structured programs enhance employee well-being, foster a more inclusive workplace, and provide employees a safe place to engage with their peers. External programs can help diverse, first-gen professionals build stronger connections to their communities and to peers in similar professional levels.
Offer strategic professional development that provides opportunity for advancement in the workplace so that leadership becomes more diverse. This includes offering workshops that address relevant topics for diverse, first-gen professionals on topics such as imposter syndrome and salary negotiation. Professional development should focus on both hard and soft skills and can include opportunities to continue their professional education.
Assess the power structure and dynamics of your company's internal culture.
Examine your company's communication methods, how information is shared, who receives it, and whether it welcomes feedback from all employees. Examine whose voices and concerns are heard during meetings and whose are not. Conduct a climate survey to identify equity and inclusion concerns and opportunities for improvement. Explore what you can do to make your workplace more equitable and inclusive for diverse, first-gen professionals.
Offer diversity training to help employees across the company and at all levels understand broader societal issues. An employee's direct manager will have the strongest influence on their experience within the company. Offer training that helps employees become more aware of their unconscious bias, prevent civil rights violations, increase inclusion, promote better teamwork, and that create a more inclusive work environment. This will help your company build stronger teams, attract, and retain top talent, and increase employee engagement.
Vanessa's example shows that navigating the professional world can be challenging for first-generation professionals but her confidence increased once she started working with her mentors. She has been able to participate in several professional development programs to refine and build her skillset, growing her professional network, and even enrolling in a master's program that she will graduate from in May. She recently started a new job and emphasizes how lucky she feels to work at an employer where she feels valued for her skillset and her lived experience.
"I had no idea how much I had to learn when I first stepped into the professional world," said Vanessa. "I wouldn't have been able to achieve all that I have without the guidance and support that I was able to receive from my mentors. As a first-gen professional, I didn't have anyone I could go to for support until I connected with them."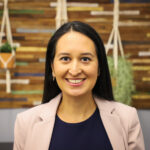 Yecenia Tostado is the Executive Director of Project Azul, a nonprofit that provides individuals with flexible training and financial assistance to transition from unemployment or underemployment into full-time roles offering higher wages, access to benefits, and a pathway to career advancement.