Growing up in an entrepreneurial family, I learned the lessons that come with running a business at a very young age. I like to say I started my MBA at the age of 8 or 9. At dinner time, we would share our stories about school, and my dad would talk about new product launches, challenges with cash flow or happy customers. As a child, I did not play with toys but helped dad at his store to manage the cash register, stock inventory or create invoices.
Dad had a small convenience store with a great reputation for customer service and was lovingly called "Uncle" or "Kaka" by the entire town. I give full credit to my dad for teaching me important lessons about running a successful business.
One may think that running a global IT consulting firm is different from managing a grocery store, but the fundamental principles remain the same. When I launched my consulting firm, I embedded his teachings of customer satisfaction, value creation, financial management, networking and sales, to align with the foundations of a modern tech startup.
In 2002, I took a leap of faith and started an SAP consulting firm with my husband in the basement of our home, which now has grown to a 50 people global business strategy and digital transformation firm serving clients spread across five continents.
Time Is of The Essence
Do a thorough quantitative and qualitative market analysis to understand demand, competition, pricing, and customer value. The tech industry is a very fast-moving industry, and what may be in demand today will be obsolete tomorrow. So, if you have the right product, idea or service that can solve an existing problem – go for it. Understandably, starting a new business can be nerve-wracking, but you have to take a leap of faith and jump in. Most importantly, you must keep up with the new trends and keep evolving. Change is constant in our industry.
Solve A Problem
Your business offering can be a service, product, or technology, but it must solve one or more business problems for your customers.
Do a quick exercise to identify how you are going to add value to your customer:
Is it innovation, simplification, gaining operational efficiency, cost savings, increasing revenue, meeting compliance, providing safety, fixing a business challenge or, does it accomplish something else entirely? Ask yourself a question – what value am I adding to the market?
Build A Strong Team
Being an entrepreneur, you tend to do a lot of work yourself, and that is okay to some extent. However, do an analysis of your strengths and weaknesses. No one is good at everything so build a team of diverse talents. It is even more important in the tech business as some of the best coders and innovators often lack finance, legal, HR and sales expertise which can be critical resources for your success. If you can't hire them full-time, you can leverage outsourced or part-time resources.
Manage Money Well
Raising funds to start your business to stay profitable; money management is the most critical component for the success of your business. This could be one of the biggest challenges to starting a business. You may have to borrow from friends, family or external sources but track the money well, as it can evaporate very quickly. Having financial models with multiple scenarios and strategies has helped me in mitigating risk. One of the very common themes is to start a business with a part-time job, so there is a steady income to cover living expenses and have benefits.
Lean In
Running a business can be overwhelming and tiring. You may run out of energy, creativity, and focus. You must have a set of mentors who can guide you, challenge you and encourage you as you go through this journey. You have to have someone in your network to be a sounding board to whom you can speak out loud to about ideas and validate them; someone you can reach out to, to discuss complex issues or someone who can share their network with you.
Leading my own business has been like riding a roller coaster – I have been scared and worried about what comes next yet simultaneously, I enjoyed the thrills of the experience.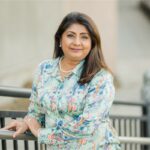 Rupal is a visionary and goal oriented IT executive with a track record of planning, developing and implementing cutting edge solutions in Fortune 500 corporations. She has over 20 years of business and IT strategy execution experience in ERP with demonstrated success in delivering innovative technology solution and skilled in all the phases of the project life cycle, from initial feasibility analysis, budget management, conceptual design through implementation and enhancement in regulated industry.