What led to you founding the Asian Hustle Network?  
There were several unique instances that ultimately led to the founding of Asian Hustle Network (AHN). While I was working in corporate tech, I noticed that I was often one of the only persons of color in my department.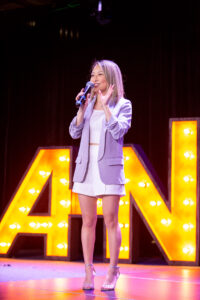 According to a 2018 Harvard Business Report, Asian American white-collar professionals are the least likely group to be promoted from individual contributor roles into management — less likely than any other race. As a result, the overall overrepresentation of Asian Americans as business owners is due to economic and social factors such as not finding a decent job or not being treated well in the labor market. We wanted to build a community that could bring more representation for Asian entrepreneurs and creatives. When my co-founder, Bryan, and I visited the Meiji Jingu Shrine in Tokyo, we learned that visitors were encouraged to write down their wishes on wooden tablets called ema (絵馬) and hang them on the prayer board. As we read others' wishes, we understood that each person is experiencing their own unique journey and that there is a sense of comfort in sharing our story with others.
How did you approach forming partnerships for your organization? Were there unique challenges you faced?
There were several challenges faced when we initially started the organization. Many didn't believe it had a viable business model or didn't see a need to bring our community together because it was such a foreign concept at the time. As we all know, the pandemic took a heavy toll on the Asian community worldwide — from the surge in hate crimes against Asian Americans to the racism that led people to avoid businesses in Asian neighborhoods altogether. We started AHN in November of 2019, right before the pandemic, so there weren't many discussions happening around uplifting and empowering the Asian community. Most, if not all, of the partnerships that we had formed early on were all done through external outreach. It wasn't until the pandemic — for better or for worse — that there was a stronger desire and need for camaraderie building, accurate media representation, and education on cultural heritage within the Asian community. As our community continued to grow, the message had spread that AHN was the platform to turn to if one wanted to share their story, find support, or simply connect with others who had similar lived experiences. Once we started to develop some presence, more organizations had begun reaching out to us to form partnerships. All of that to say we wouldn't have been able to get to this stage without the strength of our community.
In aiming to change the narrative of the Asian American entrepreneurial community – what were the myths that people believed?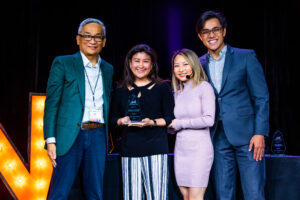 One of our biggest priorities was to write our own narrative. We wanted to break the cycle of internalizing stereotyped characteristics of the Asian community into our own personal identity, which is referred to as self-stereotyping. Many of us grew up with immigrant parents, who may have a fear-based mindset or scarcity mindset because they might have come to this country with very little. We were taught that we needed to be competitive and that there wouldn't be enough opportunities for all of us to succeed. While building AHN, we wanted to emphasize the importance of community, camaraderie, and culture. More importantly, we wanted to everyone to learn that we're able to achieve so much more when we get through challenging times and work effectively together. It was evident that more opportunities would arise when community members put their heads together and formed partnerships with one another.
The AHN's mission is to push for more Asian representation in mainstream media and for Asians to rise in investment and corporate ladders. What wins can you share with us?
Now almost four years in, we are blessed to be able to share many wins for the organization. We've had the opportunity to grow our community worldwide, expanding outside of the U.S. to Canada, Australia, New Zealand, Vietnam, and working our way towards more countries in Asia. We've hosted in-person networking events in each of these countries, bringing in 100+ guests to each event and providing opportunities for members to connect and learn from our speakers. We have also hosted our annual Uplifted Conference in Las Vegas for two years now, bringing in 600+ guests and creating an inspirational experience for all to honor and celebrate Asian stories. In addition, we published a book titled Uplifted: Journeys of Abundance, Community, and Identity and released over 200 podcast interviews, all to highlight how Asian entrepreneurs are shifting culture. Lastly, we are grateful to be able to launch several initiatives, including: our AHN Directory to create a more exclusive experience for our members; our 501(c)(3) to give back to Asian small business owners; our AHN Talks series in Vietnam to provide a platform for entrepreneurs in S.E. Asia to share their stories; and our AHN Venture Fund to invest into Asian entrepreneurs and creatives.
With the rapid growth of your organization internationally, how do you manage the varying geographical needs of the communities you serve?
In the last three years, AHN has been able to expand our presence across multiple countries. Our second largest demographic following right after the U.S. is in Australia. As we know, both countries have been shaped by waves of immigration. We learned that there were many commonalities between the Asian communities in the U.S. and in Australia, such as our lived experiences, issues of representation, and barriers to resources for Asian entrepreneurs and small businesses. Within the first year, AHN quickly caught the attention of many Asian Australians who were looking for a community to turn to where they could access resources and connections to level up their businesses. We were blessed to be able to connect with many Asian Australians — all virtually and through the power of our community — who helped us to build and strengthen the AHN presence in both Melbourne and Sydney by hosting events and highlighting Asian Australian entrepreneurs and small businesses. Right now, we are also expanding our community to Southeast Asia as we are truly on a mission to connect all Asian entrepreneurs around the world. We learned that there is a large community of Asians who were born in Asia, grew up in Western countries, and returned home with no resources on how to adapt after adopting Western philosophies. This is known as the third culture model. We want to provide a space for this community and the resources for them should they become entrepreneurs themselves.
How did your childhood influence your journey as a whole?
I was born and raised in San Francisco, which is known as a melting pot of cultures with a good number of Asian enclaves. The high school that I attended was predominantly Asian populated and I luckily never would have known that I was a minority while growing up in the Bay Area. However, I watched a lot of television as a child and, ironically, I would never see anyone who looked like me or sounded like me on-screen. I understood that European-like features and people were superior indications of beauty, based on what I would see in the media. Of course, this had a negative impact on my self-perception of beauty. It wasn't until I traveled outside of California that I understood how misrepresented and underrepresented we were as an Asian community. This fueled my desire to create a space where we can build more representation and change our perceptions of beauty in every aspect of our culture.
You recently put together the Uplifted book, why was it important to document these stories as you have?
Uplifted: Journeys of Abundance, Community, and Identity tells the personal stories of how 21 Asian American entrepreneurs built their businesses, overcame their greatest challenges, and drew strength from their identities to uplift others.
We launched the book on Kickstarter in August 2021 and are proud to have exceeded our funding goal of $10,000 in less than 24 hours.
What do you do for fun? 
I love connecting with others and learning about their personal stories. I'm also passionate about creating experiences and building deeper relationships for those in our community. In my free time, I enjoy working out, journaling, and exploring all the unique adventures that Las Vegas has to offer as I recently moved here a little over a year ago.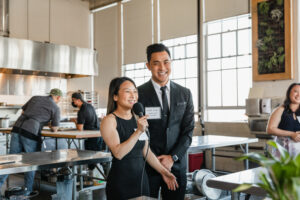 What book can always be found on your bookshelf?
Shoe Dog by Phil Knight
What song can you be found listening to at any given time?
Road by Lane 8 feat. Arctic Lake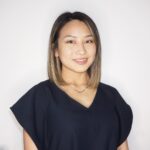 Maggie Chui is the co-founder and COO of Asian Hustle Network (AHN), the largest global community of 250,000+ members aimed at uplifting, connecting, and investing into Asian entrepreneurs and creatives.