The Problem with Tech and Tech-enabled Processes
Recently I had the opportunity to review 147 State of Indiana community-based service organizations and the reasons they were unable to secure State funding. These entities ranged from large health systems to faith-based organizations to "one-person teams".
Looking at the process design I thought it was simplistic, and the marketing communications – although I might have some obvious bias here as my firm, TechServ, created it and orchestrated the marketing distribution. The peer review, technical assistance, and evaluation, I thought, were sound as best practices were followed across the board.
So, what's the problem?
"The problem is that as the collective, we assume that technology is an equalizer and so we build processes and then enable technology to scale those processes. However, processes don't assess equity. People do.
Building processes upon processes creates systems. Systems that are intentionally reviewed and continuously improved promote progress towards equity. Systems that are not reviewed for equity and alternative pathways that are not created to drive access and participation, result in systemic barriers and the most egregious coupled with unchecked bias, evolves into systemic racism.
Looking back at our community-based service organizations: what does the data tell us?
Of 147 organizations, roughly 11% had difficulty and/or lack of understanding with submitting the grant application in the e-portal. The portal is an embedded Qualtrics form published on a publicly accessible website with originating IP address tracking. For those in tech – it's the simplest possible tech stack to deploy an application submission with multiple file type uploads. For those not in tech, here's what they experienced:
The first barrier: several organizations did not have access to Microsoft Office Suite or an understanding of how to download and use free equivalents to MS Office to even download the required templates for budget and timeline. Already there was a tech barrier that arose of not having access to what the majority would consider a "must have" tool in the workplace.
-Our alternative pathway – for any organization that requested, we provided a MS license at our cost.
Well, what about how to use MS Word or MS Excel? Online tutorials recommended.
Well, what about ongoing license access? That's trickier – but there are personal and organization licenses at less than $100 annual cost.
Of the 147 organizations I reviewed, roughly 95% did NOT hear about the grant through marketing communications – TV, social media, digital news, digital advertisement, or email marketing. We made over 10,000 impressions on social media alone…so this presented another question: who was seeing the digital marketing?
Our core audience and ideal applicant – Indiana organizations serving racial ethnic minorities, was not. Predominantly, our core audience (self-reported) received information from a local representative sharing the information at a community meeting through a physical printed flyer with a QR code of the website.
The second barrier: organizations that are not savvy in digital marketing miss opportunities. The first six months of grant respondents were made up of predominantly well-known and well-resourced organizations. It took almost a year and multiple direct relationship follow-ups to encourage, promote and consistent pushing to get small local organizations to respond.
If small organizations aren't participating in digital marketing, then they're getting the information slower or not at all. When it comes to capital (of which cash from a grant is capital) that is catastrophic. Our minority serving institutions are continuously cash-strapped and unable to scale and sustain.
-Our alternative pathway – meeting with congregations and attending community events where we have a physical booth and microphone presence to talk about this opportunity for your organization to receive up to $75,000. Then following up with personal mobile numbers for text and phone call support. It's back to basics on good old direct communication. (Yes, we do leverage Calendly for ease of scheduling.)
We identified that while tech is being touted as the solution to funding and access for communities of color especially, it still remains a barrier for many. Although the data here was collected from Indiana, it indicates that similar challenges might be present in different states. It is important for us to seek solutions that equip our community-based organizations with the tools and "must haves" we often take for granted if we are to ensure their sustainability and continued impact. The opportunity exists for tech to be a real changemaker but we need to ensure that all individuals can leverage technology to not only empower themselves but to empower the communities they serve as well.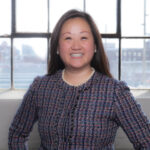 Sunny Lu Williams is the CEO and third generation female owner of TechServ. She resides in Noblesville, Indiana and frequently travels the State visiting with community-based organizations impacting health equity. She believes that technology can drive equity and evolve the way we conduct health and human services. However, we have to intentionally and frequently review processes and design to remove bias and improve access.