Executive: Jane Beaman, Vice President and General Manager Pickup & Bus Business
Company: Cummins Inc.
Student: Jocelyn Juarez, 10th GradeSchool: Believe Circle City School
Jane Beaman, Vice President and General Manager – Pickup and Global Bus Business spent the morning with Jocelyn Juarez, a sophomore at Believe Circle City School and shared her inspiring journey that led to her current position.
The day began with a sit-down interview, followed by a tour of the Cummins Mid-Range Engine Plant where Jane shared that when she'd started working at Cummins, she'd had to take apart one of the engines and the put it back together, sharing, "It was really exciting. I'm a business major and I know nothing about engines but I learned a lot, I figured a lot of it out."
Jane encouraged Jocelyn to pursue her interests and reflecting on her own son's challenge to figure out what he wants to do in college, she reminded Jocelyn, "It's an exciting time and you don't have to have it all figured out."
In the sit-down interview, Jocelyn selected questions related to leadership, career insights and the unique role of an executive.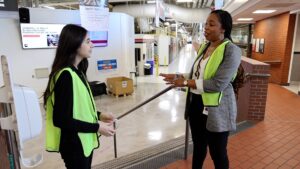 Jocelyn: What are some of the most important qualities a leader should have?
Jane: That's a great first question. I think a good leader should be a good listener. Great listening skills help build trust and help the people you're working with to know that what you think of them is important and that you hear them. I also think a good leader should be a visionary. They should be able to see around the corners… because you have to know where you're going in order to inspire people to follow you.
Jocelyn: Why did you choose to pursue a career in this industry?
Jane: I don't think I necessarily chose to be in this career. I stumbled into it. I always thought I would be a business owner and an entrepreneur like my parents are but I really love what I do. I love working with people and love the people that I work with, that's why I choose to stay in this career. I started out as a rapid service engineer at Cummins, which is a sophisticated way of saying customer service rep, where I took calls from customers who had problems with their engines. I gave repair directions to dealers and distributors on the phone and found that I really enjoyed it and wanted to be close to customers. So, I started to navigate my way through the company and started working more and more with customers and ended up where I am now.
Jocelyn: What is your favorite thing about your job?
Jane: My favorite thing about my job is the people that I work with. I love coming to work everyday with a group of motivated, inspired people that want to make a difference, that's what gets me up in the morning.
Jocelyn: Is there anything that you dislike about this job?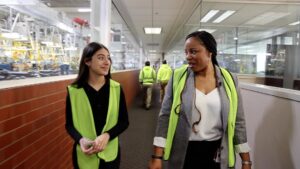 Jane: That's hard to say; there are very few things I dislike about this job cause I just love this job so much. I would say what I don't like as much about this job is administrative tasks. So I do not like filing expense reports but I'm fortunate that I have a great assistant that helps me with that.
Jocelyn: Did you participate in any programs that led you to your current career?
Jane: Programs like in high school? I am the middle child of 11, so I have 10 brothers and sisters. There wasn't much left over after school for after school activities and programs when I was growing up… I don't believe that I participated in any programs. One of the things I loved to do as a teenager was read. I was a voracious reader, I read 3-4 books a week and that's something that serves me well even today.
Jocelyn: How do you encourage your employees/ team?
Jane: One of the ways that I encourage my team members is by letting them know I care about them and I am interested in their growth and I am willing to help them whether by giving them direction or rolling up my sleeves and working right along with them. I think that's what people need to see. I think another powerful way to encourage employees is to role model behavior that I want to see.
Jocelyn: How do you receive constructive criticism?
Jane: I think I receive it well, I'd like to think that I have an open mind when it comes to constructive criticism. I firmly believe that feedback is a gift and people have positive intent when giving it and so one of the things I do I graciously thank the person giving me the feedback then I decide what I want to do with it because I believe there is always a nugget of helpful information and feedback, might be hard to hear but there's always something useful in it.
Jocelyn: Who is someone that inspires you the most?
Jane: I would say my mother is the biggest inspiration. She had 11 kids and she put all of her kids through college, some of them while going through college herself. She always took amazing care of her family.
Jocelyn: What do you think leads to success?
Jane: Hardwork is the foundation that leads to success. Then I would say discovering what you are passionate about. Find out what you are passionate about and pursue it vigorously because that's what keeps you going when it gets tough, so doing what you love is important.
Jocelyn: I also agree and be really consistent with your work.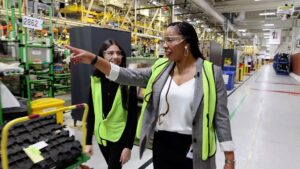 Jane describes her role ahead of the CMEP tour: I lead a group of talented people that design and manufacture engines that go into a variety of applications. This plant is responsible for the engines that go on heavy duty pickup trucks and we have a number of other plants across North America that build engines that go into school buses. So I imagine you take buses to school? The bus you take most likely has a Cummins engine in it.
Jocelyn: Wow, that's amazing. I have another Question for you. What does your day to day look like?
Jane: It's different everyday, it can range from working with our Model 25 program team to figuring out the best way to launch the program with the best quality price and timing. It could range to days like today where I get to talk to you about my day, inspire you to maybe take a career in STEM or it could be deep in the throes of customer negotiations or working with engineers to figure out what our next product will be for the future. It is different everyday and that's one of the things that I love about it.