Revolutionizing the Ophthalmology Biopharmaceutical Clinical Development Talent Pool
In the highly competitive world of biopharmaceuticals, standing out in the ophthalmology field takes more than just innovative treatments, it takes a culture of excellence in clinical development talent. Here's how Ocular CRC, founded by Dr. Nnenna Ihekoromadu, is leading the charge. In the year 2020, Dr. Nnenna Ihekoromadu, a physician and highly experienced leader in the field of ophthalmology biopharmaceutical clinical development, had a vision; to build a team of medical experts fully trained and committed to providing ophthalmology drug development excellence. This vision led to a courageous but slightly precarious decision to begin operating her first business startup, the Ocular Clinical Research Company (Ocular CRC). Although she would not have previously considered herself an entrepreneur, she had a vision: to create a biopharmaceutical consulting firm unlike any other already in existence. The most striking aspect of that vision was her decision to create a formal training college specifically for medical experts transitioning into the ophthalmology biopharmaceutical clinical development job role. This brilliant idea proves to be beneficial for all parties involved, as the company empowers and equips doctors interested in joining the field, while also providing expert services and qualified talent to biotech and pharmaceutical companies seeking to advance their ophthalmology clinical development programs. To ensure success, the Ocular CRC College meticulously reviews applications and selects the best suited medical experts based on the specific goals of the companies they've partnered with. The college then provides comprehensive and individualized training for the students and upon the completion of training and certification, graduates are placed into clinical development and drug safety positions with specific biopharmaceutical companies for 'on-the-job' training and subsequently they become Ocular CRC Consultants. In doing so, Ocular CRC creates intelligently crafted matches between their consultants and the target companies conducting medical research.
MAKING THE CAREER SHIFT
Many people dream of making a greater impact on patient care through the development of new treatments and therapies. Many also desire the structured and predictable work environment, access to cutting-edge technology, and the chance to participate in innovative clinical research offered by the biopharmaceutical industry. This minority-owned business is revolutionizing the field of ophthalmology biopharmaceutical clinical development and candidly shares the challenges and rewards of transitioning from a clinical setting to the biopharmaceutical industry.
Transitioning from a clinical setting to a role in the biopharmaceutical industry can be a significant change for physicians and other medical professionals. While patient care in a clinical setting can be reward- ing, there are a multitude of reasons that physicians would be interested in working full time in clinical research for biotech or pharma companies. One of the main advantages of this transition is the op- portunity to have a greater impact on patient care through the development of new treatments and therapies. In addition, working in the biopharmaceutical industry can provide a more structured and predictable work environment, ac- cess to cutting-edge technology, and the chance to participate in innovative clinical research. However, making this transition also comes with challenges such as the need to learn new skills, understand the drug development process and regulatory landscape, and adapt to a different culture and way of working. Despite these challenges, the rewards of transitioning to the biopharmaceutical industry can be significant for physicians who are passionate about medical research and innovation. On the other end of the spectrum, pharmaceutical and biotechnology companies developing innovative drugs and devices have huge unmet needs in sourcing medical experts with the training and expertise needed to manage and lead the clinical development job function. Clinical development and drug safety have some of the most important job roles in the drug development process, and require knowledge of the specific therapeutic area, and how to perform the job functions. A report by the Association of Clinical Research Professionals found that the demand for skilled clinical research professionals far outpaces the supply, leading to difficulties for companies in finding qualified candidates. This shortage is particularly acute in the ophthalmology therapeutic area, which has seen significant advances in scientific and clinical research in recent years. The lack of qualified candidates for clinical development roles slows down progress for many ophthalmology companies developing therapies with the potential to treat eye diseases and significantly improve the quality of life for patients with vision problems. In addition to the shortage of qualified candidates, there is also a lack of diversity in the clinical research workforce, with minority groups often underrepresented in clinical development job roles. By providing targeted training, and ongoing support to its consultants, Ocular CRC is helping address these issues. Ocular CRC is on a mission to improve the standards and quality of ophthalmology biopharmaceutical clinical development talent and services
MEET THE POWERHOUSE WOMAN LEADING THE WAY
Surely, conceiving a business plan this expansive requires a great amount of creativity. Dr. Ihekoromadu focused on her values of hard work and diligence to successfully execute this idea. With over 22 years of experience in the pharmaceutical industry, she has developed a deep understanding of the complex regulatory landscape and the challenges that businesses face in the drug development process. As a black female physician, who transitioned from clinical to the corporate pharmaceutical industry, Dr. Nnenna Ihekoromadu, has acquired a wealth of experience in various roles including pharmaceutical sales, medical affairs, and clinical development. Dr. Ihekoromadu is an International Medical graduate, and while working at the UCLA Jules Stein Eye Institute, she made the decision to cross over to corporate America. She began her career in pharmaceutical sales with Johnson & Johnson, where she quickly rose through the ranks from sales representative to district manager covering multiple states. In this role, she was instrumental in the product launch of Topamax for the prevention of migraines. After several years in sales, Dr. Ihekoromadu made the transition to medical affairs and medical science, working for companies such as ISTA Pharmaceuticals and Bausch & Lomb. As a Senior Medical Science Liaison, she contributed to the successful product launch of several ocular medications, including Xibrom, Besivance, and Lotemax Ointment. Dr. Ihekoromadu then made the transition to clinical development with Santen Pharmaceuticals, where she led a clinical development team and worked on early phase retina and glaucoma clinical trials. She later moved into an executive leadership position in ophthalmology clinical development at Syneos Health (formerly INC Research), a contract research organization. In this role, she worked on clinical development projects across all phases of drug development, for a variety of biopharmaceutical companies and a range of ophthalmology clinical studies. This included drug development in dry eye disease, meibomian gland dysfunction, glaucoma, age-related macular degeneration, diabetic retinopathy, retinal vein occlusion, and inherited retinal disorders. Her experience also includes executive leadership roles at Applied Genetics Technologies Corporation (AGTC) where she led multiple teams to advance their gene therapy clinical development projects for inherited retinal disorders. With her extensive experience, Dr. Ihekoromadu has successfully met with different regulatory authorities including the U.S. Food and Drug Administration (FDA) and the Japanese Pharmaceuticals and Medical Devices Agency (PMDA). She has also led multiple cross-functional teams, established a strong global network and developed relationships with ophthalmology biopharma industry leaders and Key Opinion Leaders (KOLs) in the field. She is passionate about the exciting and innovative work in ophthalmology drug discovery and clinical research. Dr. Nnenna, therefore, has a deep understanding of the challenges and needs of drug-developing companies in this field, a major driver of the inspiration to start Ocular CRC, a company dedicated to providing these companies with access to highly qualified medical professionals with specialized clinical development job training. Ocular CRC is therefore developing a diverse pool of eye doctors and other medical experts who have the specific training and expertise needed for success. This includes a focus on individuals who are underrepresented in the field, such as women and minorities. As CEO Dr Nnenna is the driving force behind this innovative company model.
THE OCULAR CRC BUSINESS MODEL
As a minority-owned business, one of Ocular CRC's main objectives is to foster a culture of excellence, empowerment, and inclusivity in the biopharmaceutical industry. By strategically providing targeted training to the students, and ongoing support to its graduate consultants, Ocular CRC is igniting the potential of medical professionals to be great clinical development leaders. To ensure this greatness translates into tangible results, Ocular CRC is also providing the spark needed to spearhead this success, and it's all tied into the unique Ocular CRC business model. By partnering with Ocular CRC, biotech and pharmaceutical company executives are accelerating their journey towards successful clinical development outcomes by tapping into the expertise and insights of a highly qualified team of professionals. The Ocular CRC strategy to ensure excellence in the field of ophthalmology clinical development through specialized training and individualized placement include the following approaches: Targeted Student Recruitment: Ocular CRC's outreach to the top ophthalmology and optometry residency and fellowship programs is planned for 1st quarter 2023. They are also ensuring a strong presence at major ophthalmology and optometry conferences and networking events to identify and attract the best and brightest ophthalmologists and optometrists. Advanced Career Training: The Ocular CRC College advanced career training programs provide a unique and novel learning experience that combines: relevant ophthalmology training with a robust, job function-specific clinical research training garnished with hard & Soft-Skills training It is the perfect combination of learning theoretical concepts and applying them in real life through a mentored functional Ophthalmology clinical research training experience with the highest-quality faculty. Job Placement and Maintenance: Ocular CRC is committed to a targeted job placement for each certified graduate. This is followed by on-going professional development, job maintenance, and networking opportunities to ensure that the Ocular CRC consultants continue to have the guidance, resources and support they need. By focusing on talent development and professional growth, Ocular CRC provides life-changing opportunities to the doctors who are selected. The biopharmaceutical corporate environment can be quite exclusive, hence the need for a company that embraces values of diversity, empowerment, and integrity. In doing so, Ocular CRC is cultivating a more diverse workforce and is driving innovation within the field of healthcare, thus improving the lives and vision of many patients. The unique Ocular CRC model of selecting, training, and then individually matching consultants with clinical development research teams within the targeted companies, strengthens the confidence of these medical professionals, including minorities. The opportunity to thrive in this competitive and rapidly evolving world of drug development is not enough, Ocular CRC Consultants are not just thriving, but truly exceeding expectations!
"As an Emergency Medicine physician practicing for over 20 years, the idea of a career change was challenging. Ocular CRC made this transition seamless. I cannot speak highly enough of the training Ocular CRC College has given me. I now work in Clinical Development and Drug Safety and feel entirely at ease. The transition to the Pharma Industry was exciting and truly enjoyable. If you are a clinical physician looking for a better work-life balance and have been considering a career change to the BioPharma Drug Development field, please contact Ocular CRC for exceptional training to prepare you for your new life!"
OCULAR CRC COLLEGE GRADUATE SUCCESS STORIES 
Dr. Brenda Johnson is an Optometrist who always dreamed of having a leadership role with an ophthalmology biotech company. Despite having an advanced degree within the field and years of experience, it was difficult for her to find the right opportunity. After coming across the Ocular CRC College, she decided that it was the perfect way for her to finally make the transition. After months of training and hard work, she graduated with an "Eye on Ocular CRC Ready" certificate. With her specialized training complete, she was matched with a leading biotech company developing gene therapy for retina diseases and now works full-time as an Ocular CRC consultant in the role of Medical Director and Clinical Development Lead. In less than 6 months, she got her dream career role and is able to be a great role model for her children; They know now that whatever they want to achieve is possible, as their mom has demonstrated through her career journey. Similarly, Jenny McQuiston, M.D., an Emergency Room (ER) physician and a mother of 3 young boys, had long been interested in transitioning from the hectic environment of the ER to a corporate biopharma role. With the successful completion of the "Eye on Ocular CRC Ready" training program with Ocular CRC College, Dr. McQuiston is confidently functioning as a consultant with a biotech company. The newfound flexibility in her schedule allows her to be with her family more often.
THE OCULAR CRC DIFFERENCE
Despite her successes in the industry, Dr. Ihekoromadu saw room for improvement in the hiring process for ophthalmology clinical development. She founded the Ocular Clinical Research Company (Ocular CRC) with the mission of improving the standards and quality of service in Ophthalmology clinical development. The Ocular CRC business model is composed of integrated components for biopharmaceutical clinical development success. This includes the Ocular CRC College, which trains and certifies medical professionals transitioning into the Ophthalmology clinical development field, Ocular CRC Consultants, which provides trained and certified medical talent and services for ophthalmology biopharmaceutical companies, and Ocular CRC Connect, a community for ophthalmology biopharmaceutical clinical development and drug safety professionals. Dr. Ihekoromadu's goal is to challenge the status quo in the pharmaceutical industry, which often rejects a high percentage of qualified job applications despite already being short-staffed. By providing top-quality training through the Ocular CRC College, Dr. Ihekoromadu is building a team with the goal of supporting biopharmaceutical companies and medical experts in contributing to advances in various ophthalmology sub-therapeutic areas, such as dry eye, glaucoma, age-related macular degeneration, diabetic retinopathy, and inherited retina diseases. As CEO of Ocular CRC and a physician with decades of experience in ophthalmology, Dr. Ihekoromadu is keenly aware of the fact that these conditions represent a significant portion of the global burden of vision loss, and advances in their treatment have the potential to greatly improve the lives of those affected. Overall, Dr. Ihekoromadu and the team at Ocular CRC are committed to improving the quality and standards in Ophthalmic clinical development skills and expertise and are working to cultivate a culture of excellence in this field. By bringing a consultant level of expertise, and a diverse range of professionals to the table, Ocular CRC is helping drive innovation and advancement in the field of ophthalmology.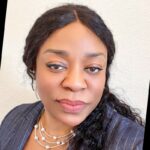 Dr. Ihekoromadu gained her Ophthalmology clinical experience from UCLA, Jules Stein Eye Institute, and her Medical Degree from University of Nigeria.