The consciousness that minorities have adopted out of necessity is also a template for their success
As an Asian son of immigrants for whom English was a second language, I spent a lot of time during my childhood fixating on how others perceive me.
They won't understand what an onigiri is, so I'll have to explain it. How can I describe it using a point of reference they would understand? I wonder if they'd think I'm too Asian. Should I ask my mom to pack a lunch that's less Japanese?
As people of color, many of us have had to adapt attentively to how others may think or feel about us. When you navigate life as a minority person in a majority group, you tend to develop a heightened inward awareness, one always mediated through the eyes of others. W.E.B. Du Bois calls this the double consciousness — a second sight that gifts us an understanding of worlds not only based on who we think we are but also based on who others think we are.
It's an awareness that should be treated like an asset and skill to cultivate for students, especially in our increasingly diverse society.
At its core, double consciousness is the awareness that one's point of view is not absolute; that we must constantly reconcile our inner world with the external worlds of others. It's an exercise of humility, one requiring that we decenter ourselves to acknowledge – and at times accommodate – the realities of others. While the circumstances that beget it are historically unideal (and in DuBois' case, an undeniably and actively racist society), double consciousness can be considered an enlightened state of mind beneficial to its owner.
Take for example, the consciousness many entrepreneurs and business owners of color have had to develop out of necessity. To survive and thrive in market spaces that were never designed for us, we learned how to "code switch." We had to incorporate the perspectives and needs of the majority group. We had to understand their culture, their politics, their sensibilities, and biases–not because we're ashamed of our minority identity, but because caring about others has gifted us with the tools to succeed in the business world. It's a consciousness that equips us with the perspective to meet consumer demands. It builds our empathy toward the people we serve: our customers, our employees, the communities and markets we navigate. It prompts innovation. It keeps us adaptive, nimble, competitive yet humble.
In other words, many people of color intuitively know how holding this double consciousness benefits us. It hasn't killed us; it's made us stronger.
We want our children to develop a type of double consciousness – one that inspires empathy. We want them to have a consciousness that empowers them to think creatively and flexibly in a way that acknowledges a diverse range of people, places, and perspectives.
We want them to have a consciousness that empowers them to work with people different from them. We also want schools to teach them these ways of thinking, especially as our nation grows more diverse and divided. These are not controversial ideas. They are sentiments widely shared among the public.
Yet, in schools across the country we are seeing a coordinated effort to prevent the development of this type of consciousness among our children. In a reactionary push against DEI gains, "anti-woke" elected officials and activists have targeted schools as a political battleground. From Florida to Ohio, Texas to Colorado, an alarming number of states have introduced or passed laws that limit one's consciousness: education gag orders, book bans, and sweeping mandates that censor discussions on race and identity in the classroom.
These anti-honest education efforts purport to protect kids but instead cause long standing harm. By making it illegal to learn about systemic oppression, privilege and power, and their complex implications on our country – the logic goes – we protect our children from feeling ashamed about their race and hating America.
But by limiting their access to information and diverse points of view, these efforts rob children of the opportunity to hone the type of consciousness we know enables them to succeed. It cuts them off from worlds around them, rendering them ignorant, incurious, and incapable of affecting progress. The impact of these attacks is widespread, but disproportionately greater for educators and students of color; and make no mistake, this is both the intent and impact of these attacks.
As business leaders and entrepreneurs, we need a landscape predicated on honest exchange. An honesty that allows us to critically examine the communities we serve in all their nuance and one that helps us understand the challenges our customers and employees face regardless of their background. By suppressing the growth of a consciousness attentive to others, anti-honest education efforts harm our civil infrastructure. They're bad for people and for business.
As a high school English teacher, this is why I taught in an honest way. Instead of only reading from a white male literary canon, we also read about other people's truths and perspectives, especially those that are underrepresented. We unpacked challenging topics, even if at times they caused discomfort or portrayed our country and past in an unideal way. Anti-honest education activists may mischaracterize these teaching practices as disempowering, but as a person of color who has grappled with their own double consciousness, I know the truth to be the opposite.
Growing up as a gay and Asian kid in US public schools, I never saw myself reflected in my learning. I grew up feeling invisible, ashamed about my race and resentful toward my country – angry at a system that I felt was never designed for or cared about me. It wasn't until I learned about the full history of the US that I came to see myself as a part of it. The Civil Rights Movement, the Stonewall riots, the histories of marginalized groups who were, yes, being oppressed but also working together to fix their country because they love it and what it stands for – these are the learning experiences that inspired me to be a teacher and commit to a life of making our country better for everyone.
As people of color, we know having a double consciousness means reconciling different worlds of truth. It's an awareness we've adapted out of necessity, but it's also a template for our success. Every child stands to benefit from this skill and awareness.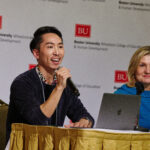 Takeru "TK" Nagayoshi is the 2020 Massachusetts Teacher of the Year and recipient of the 2021 Horace Mann Award for Teaching Excellence. He leads training across the country on various K-12 issues, and his voice has been featured in places such as This American Life, The Nation, and the Smithsonian. TK is also an adjunct professor at Northeastern University and an inaugural fellow for the Voices for Honest Education, where he advocates student-affirming education. As a son of Japanese immigrants and a gay person of color, TK helps fight to create an inclusive learning environment.