Harrison Center
The Harrison Center is an artist studio center on North Delaware street that is both for the arts and for the city. It is for the arts by providing below market rate studios for emerging artists and providing community arts, education, and inclusive programming. The Harrison Center is also for the city and uses the power of art to know and love our neighbors. It seeks to share its resources with the community to provide cultural solutions to our most pressing needs.
Galleries
The Harrison Center hosts eight galleries featuring the work of local artists. Six of these galleries switch art monthly– it's a busy schedule, but it allows many opportunities for artists to show and sell their work. Guests can explore Harrison Center galleries on the first Friday of every month when new shows are celebrated with a reception, by making an appointment for a visit during the week, or by viewing the exhibits online. Exhibits regularly highlight artists of color – whose culture and stories are necessary to tell the story of Indianapolis.
Harrison Center galleries celebrate Black History Month and bring even more focus to Indiana's black talent. Artists featured in February 2023 include Richmond, Indiana painter and collage artist India Cruise-Griffin; Marion, Indiana's Tashema Davis; Israel Solomon, and the Black History Month Group Show: Future DNA, curated by Tony Radford, Bruce Armstrong and Rebecca Robinson of We Are Indy Arts.
Studios
The Harrison Center features diverse studio artists and engaging community programs. 37 artists have studios at the Harrison Center and make work year-round that celebrates their lives and cultures. While many artist studios are open for monthly First Friday events, quarterly Open Studio Nights feature all the artists in their studios. On a day-to-day basis, these resident artists can make work in a community with one another and share in the benefits of a diverse arts culture. Studios at the Harrison Center are designed to be affordable spaces for these local makers to create and host people from the community. Studio artists of color at the Harrison Center include Courtland Blade, Johnson Simon, Derrick Carter, Cierra Johnson, Shaunte Lewis, Israel Solomon, Ess McKee, Josh Betsy and Rebecca Robinson.
Storytelling Drawing Sessions
Harrison Center programs like Storytelling Drawing Session have quickly become staples in the community for people of all backgrounds and art experiences. Storytelling Drawing Session is a weekly event in which a long-term resident of urban Indy comes to one of the Harrison Center galleries to sit as a live model. Instead of the typical professional live modeling one would expect from an artist drawing session, these models are asked to make themselves comfortable (they can wiggle!) and tell their stories. While this helps artists develop technical drawing skills, it also helps them develop listening skills. "The storytelling classes have been life-giving to me," said one neighborhood attendee, "Though I've known about the Harrison Center community for over 20 years, I'm just now able to become involved… It's a privilege to meet the other artists and then to hear stories from the models who are legends in this city."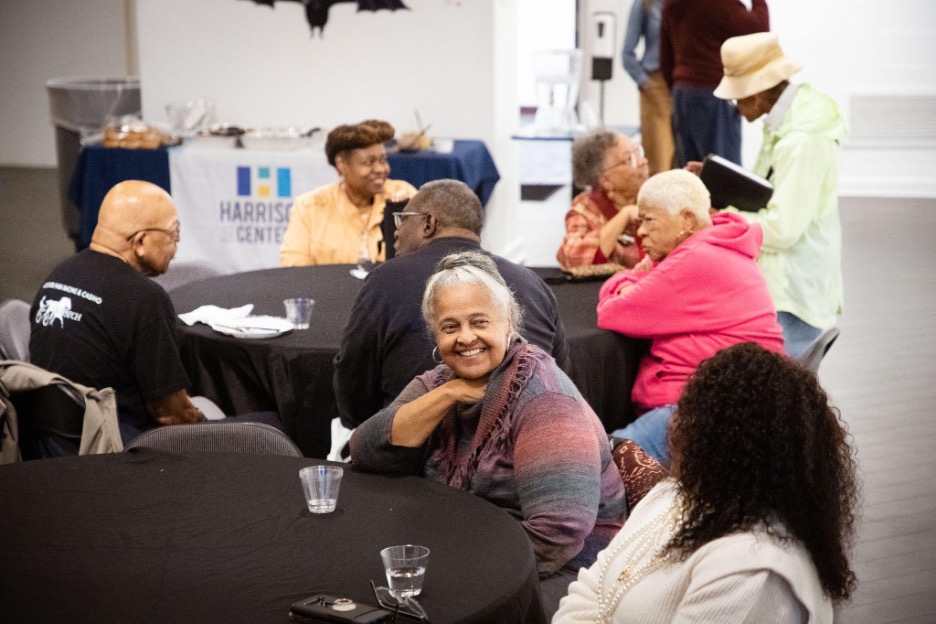 The Greatriarchs
The Greatriarchs is a Harrison Center program to serve and partner with the long-term residents of the Martindale Brightwood neighborhood. This program started in 2018, when a Harrison Center artist began attending porch parties at senior citizens' homes. While conversations happened on the porch, the artist sketched and returned to her studio to create large scale paintings. The Harrison Center hung these paintings on the sides of buildings along 16th Street between the Monon and Andrew J. Brown to elevate and preserve the neighborhood story.
The Greatriarchs program includes monthly social gatherings for seniors, weekly art classes and regular engagement with podcasters, musicians, artists and filmmakers who use their mediums to preserve stories.
One of the most exciting parts of the Harrison Center's identity is that it has become an ecosystem of stories and backgrounds. The Harrison Center celebrates not only diversity in race, but age and socioeconomic status, believing fully in a model of community that is neighbor-focused and champions the arts while celebrating the city. Artists and patrons at the Center can build professional momentum in a place that values who they are and connect with others who feel the same.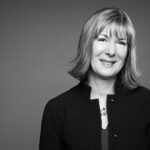 Joanna Taft serves as Founding Executive Director of the Harrison Center and Founder/Board Chair Emeritus of Herron High School. For these endeavors, she has received the Governor's Arts Award, Hoosier Heritage Lifetime Achievement Award, the Indianapolis Business Journal Women of Influence Award, the Girls Inc. Touchstone Award, Arts Council of Indianapolis Arts Council of Indianapolis ARTI Award, Jefferson Award, Queen of the Court, and two Cultural Vision awards. She is a graduate of Covenant College, the Stanley K. Lacy Class XXXII, and was a 2012 Creative Renewal Fellow.