Meet Citizens Energy Group President & CEO, Jeff Harrison
You're a first-generation college graduate, Mr. Harrison, having graduated with an electrical engineering degree and now serving as a senior executive in the industry. What were some obstacles in your journey that have shaped you as a leader? I am the son of a bricklayer from Jeffersonville, Indiana. Working with my father's bricklaying crew certainly provided me with a great work ethic and showed me the importance of teamwork in achieving your goals. I certainly faced financial obstacles to attend college. Without an emergency loan after my first semester of college at Vincennes University, I may never have finished college. Scholarships at Rose Hulman Institute of Technology allowed me to complete my engineering degree. As one of the few black CEOs in Central Indiana, I certainly believe I have a special responsibility to help lead collective action for racial and economic equality in our region. Since becoming Citizens Citizens Energy Group's CEO in 2015, members of the black community occasionally approach me at public events to tell me how proud they are to see someone who looks like them leading such an important company in our community. These encounters are very humbling and give me a strong sense of responsibility to lead our organization effectively while also being focused on leading efforts such as Business Equity for Indy (BEI) and our commitments under the Indy Racial Equity Pledge.
What are the opportunities for young people and minorities in the Engineering space?
Young people should follow their passion whether it be the arts, entrepreneurism, or a vocational trade. However, there are great opportunities for young people in Engineering, especially for students of color and women. With the retirement of the baby boomer generation, many companies are hiring for a wide range of engineering and technical positions. While there has been a growing number of minority and women engineering students in recent years, there is still room for improvement. Our school systems, starting from early childhood education through high school, must continue putting increased emphasis on science, technology, engineering, and mathematics (STEM). Teachers and counselors also must be aware of continuing bias that might steer minority and female students away from STEM careers.
What would you say are the key tenets to your success?
It all starts with hard work. In addition, I was fortunate to have great mentors throughout my youth who ultimately helped me succeed in college at Vincennes University and Rose Hulman Institute of Technology; later in my career at Indianapolis Power & Light; and now at Citizens Energy Group. I think mentors are important for the success of all young people, but especially for black youth and other young people of color because of the economic and institutional barriers they face.
"We recognize that good legislative policies, strong legislative policies, strong procurement pipelines, and procurement pipelines, and continued opportunities for continued opportunities for black talent are critical to ensuring diverse, vibrant, and ensuring diverse, vibrant, and competitive communities now and far into the future."
In a high-pressured and demanding role such as yours, how do you find work-life balance?
Finding balance can be tough at times; but you have to find balance. I focus on physical, mental, and spiritual strength. I also spend meaningful time with family and friends. Our work is very complicated and demanding, but we all have to remember to have fun when we can.
You are the current chair of the Business Equity for Indy initiative; what do you see as the role of companies in driving equity and inclusion?
BEI is a joint effort of the Central Indiana Corporate Partnership (CICP) and the Indy Chamber in cooperation with the Indianapolis Urban League. The effort began in the fall of 2020 after that summer of unrest following the murder of George Floyd. I became involved through my work with both CICP and the Indy Chamber. Our mission is to enhance quality of life and advance economic opportunity for Blacks and other people of color in Central Indiana. Heading into 2023, we are reorganizing BEI's mission around three primary areas: policy, procurement, and people. We recognize that good legislative policies, strong procurement pipelines, and continued opportunities for black talent are critical to ensuring diverse, vibrant, and competitive communities now and far into the future. Leading BEI has been a rewarding experience for me personally, but I am also pleased to see how employees across many corporations here in Indianapolis are enjoying our collective efforts to create a more equitable economy for everyone in Central Indiana. Over the last two years, as the Chairman of BEI, I've had a frontrow seat to the energy, effort, and passion that Central Indiana businesses and business leaders of all sizes and from all industries have been able to demonstrate and maintain with their time, resources, and commitments to this initiative.
Do you think executives have a responsibility to pour back into the community?
Absolutely! We have so much talent in our community, and I have witnessed this firsthand with BEI. We have seen so many executives and non-executives alike coming together to support the business equity initiative. Also as one of the few black CEOs in Indianapolis, I feel I have a special responsibility to give back to the community. I know my success as a CEO serves as an example for young people of color. At Citizens Energy Group, giving back to the community is one of the foundations of our company, which is structured under a Public Charitable Trust. Citizens is an organization dedicated to excellent customer service and enhancing quality of life and economic development in our communities. As a result, there is a deep sense of community service among our employees. You will find many of Citizens' employees serving on boards of non-profit organizations working to make Indianapolis a better place to live.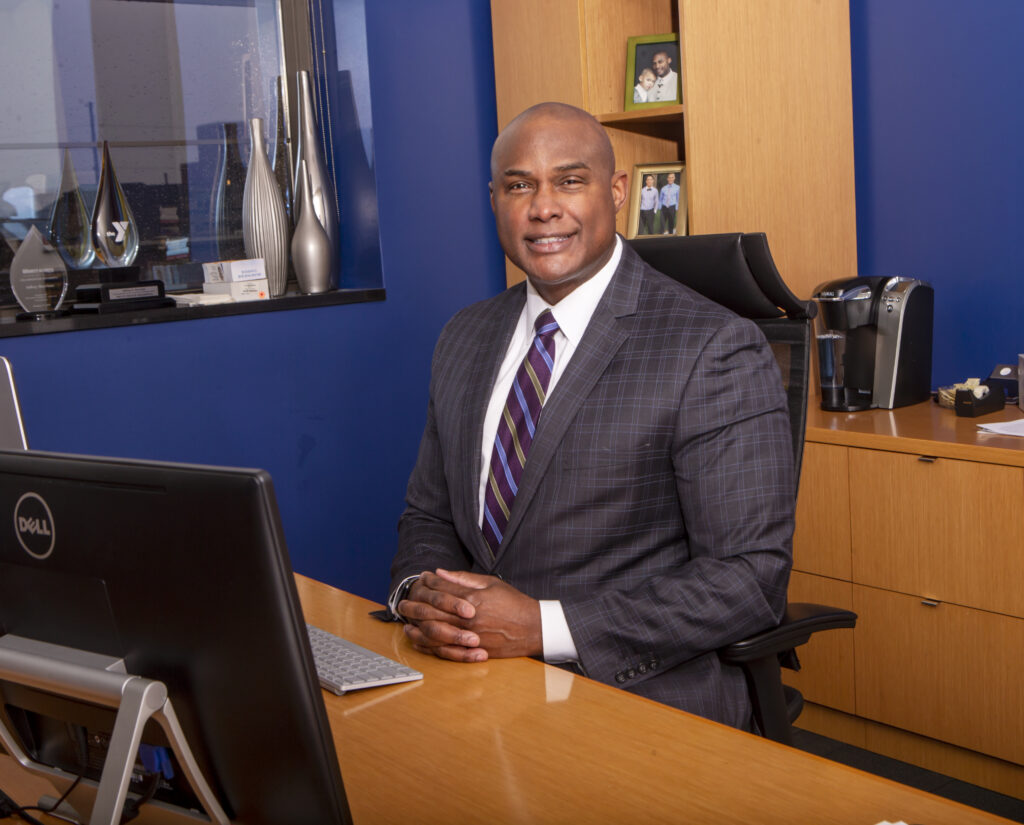 Do you believe 'the table' needs to be re-imagined?
Changing the mindset of business leadership to focus on equity and inclusion is the central focus of BEI. At all levels in business organizations, we must be aware of unconscious biases that are holding back equity and inclusion efforts. There is a natural tendency in organizations for leaders to hire people and promote employees who look and think like themselves. We must break this mindset by forming a diverse, team-based workforce focused on operational excellence and continuous learning. At Citizens, we believe this approach produces better decisions for our customers and communities and sustainable success for our organization.
What is the change brought about by the inclusion of minorities in leadership positions?
I think the change resulting from minority leadership is the focus on creating more equitable and sustainable results for all our customers. I think minority leaders are aware of the barriers faced by people of color in various aspects of our society including education, hiring and promotion, health care, and public policy.
Looking to the next 10 to 20 years, what will representation look like in corporate America?
That certainly is a difficult element for our community to predict. While I have been very encouraged by the passion of business leaders involved in BEI, I also recognize that there are formidable and well-funded political and social forces across this country that are fighting equity and inclusion efforts. We must not be afraid of continuing to confront those who oppose equity and inclusion through respectful dialogue. At Citizens, we have framed the decision to create a diverse and inclusive workforce as simply the right thing to do from a business standpoint.
What is the legacy of BEI? How do we ensure that all voices are being heard?
My hope for the legacy of BEI is the creation of a more equitable economy for all of the people in Central Indiana. We will ensure all voices are heard by creating inclusive cultures within our business organizations. At its core, creating an inclusive culture means creating a business environment in which we are actively listening to the points of view of employees from diverse backgrounds. As BEI celebrates two years of work toward equity, we recognize that in many ways, our journey is just beginning. Working together, we must continue to question how our actions today are leading to positive impacts and improvements in the quality of life for black and brown residents in the years to come. In addition to making progress in our focus areas, I think we must be continually working to change the business mindset in Central Indiana to ensure we are continually focused on creating a more equitable and inclusive economy for all the residents of Central Indiana. Some of our actions will succeed, and some of them will ultimately fail, but the energy, attitude, and commitment of Central Indiana leaders will allow us to make positive impacts and create equitable opportunities for everyone in our community.