6 Things to Know about Breast Cancer and Black Women
My friend Laura Crandon, who I mentioned in last month's blog, is one of the most courageous women I know. I admire her so much! When I heard Laura's story about surviving breast cancer twice, facing setback after setback, and how she not only survived but thrived while giving so much of herself, I came to love her like a sister. If she hadn't advocated for herself, Laura might not be here today. Now she advocates for others through Touch4Life, which she founded to help women of color increase their breast health IQ and eliminate disparities in breast cancer outcomes.
To honor all the women who courageously stand up to breast cancer each day, and to recognize Breast Cancer Awareness Month, I'm dedicating this blog to Laura and her wisdom. Here are six of Laura's suggestions, which she also shared in a podcast hosted by Dr. Lisa Toppin.
Know the risks for Black women.
Did you know that breast cancer death rates are highest for Black women? It's a truth we don't talk about nearly enough: Regardless of when their cancer's discovered or what type it is, Black women who develop breast cancer are less likely than women of any other race to be alive five years after their diagnosis.
The stats are shocking. Even though ​​Black women have a 4% lower incidence rate of breast cancer than white women, their breast cancer death rate is 40% higher. Their risk of an aggressive form of cancer called triple negative breast cancer is three times higher.
"The current standards of care don't work for Black women," Laura said. "Often, medication doesn't work for us. Many Black women just don't know the risk factors and what they should be doing."
Since Black women weren't included in clinical trials for recent breakthrough cancer drugs and treatments, expected outcomes aren't known or documented. That's another risk factor.
In May 2023, the United States Preventive Services Task Force (USPSTF) issued new draft recommendations for breast cancer screening that lowered the age at which women should start screening from 50 to 40 years old. "That's a good step, but it's a baby step," Laura said.
New American College of Radiology guidelines call for earlier and more intensive screening for high-risk women, by age 25, "particularly Black and Ashkenazi Jewish women." Black women are considered high risk, without exception, due to higher mortality from breast cancer, higher grade tumors, and higher risk of BRCA1 and BRCA2 genetic mutations, among other factors.

Some healthcare professionals may not be aware of these risks. All the more reason for Black women to be aware of the risks and take action. "See if your metro area has a high-risk breast center, because it will have more monitoring resources," Laura said. "You may need to go beyond the standard screening."
Learn your family history.
If you want to understand your risk factors, you need to know your family health history. Since you inherit DNA from both your mother and father, it's important to talk to people on both sides of the family. "Tell your Grandma or PopPop you want to live a long, quality life, and it will help you to know what you've inherited — good and bad," Laura said. "If you discover that your grandfather had prostate cancer and your grandmother had ovarian cancer, those are risk factors for you."
Knowing those risk factors could lead you to genetic testing. Several years ago, geneticists discovered that there's a correlation between inherited mutations in critical genes like BRCA-1 and BRCA-2. The mutations are almost exactly the same, can run in families and cause high-risk prostate, ovarian and breast cancer, especially for Black people.
Men who discover they have the genetic mutation that predisposes them to prostate cancer can get screened early. They should let their sisters and daughters know about their inherited risks for breast and ovarian cancer.
Beware of dense breasts.
In 2016, Laura's annual mammogram showed she had dense breasts, which are common in Black women and can be a risk factor for breast cancer. "Even though I was a health plan executive, I didn't know about that risk," Laura said.
What's the risk? Dense breasts lower the sensitivity of a mammogram. "Think of dense breasts as a cloudy day," Laura said. "On a sunny day, you can see a plane in the sky. On a partly cloudy day, you can see part of a plane. But on a cloudy day, you can't see what's behind those clouds. You need something more." That something more is usually a 3D mammogram or supplemental screening with ultrasound.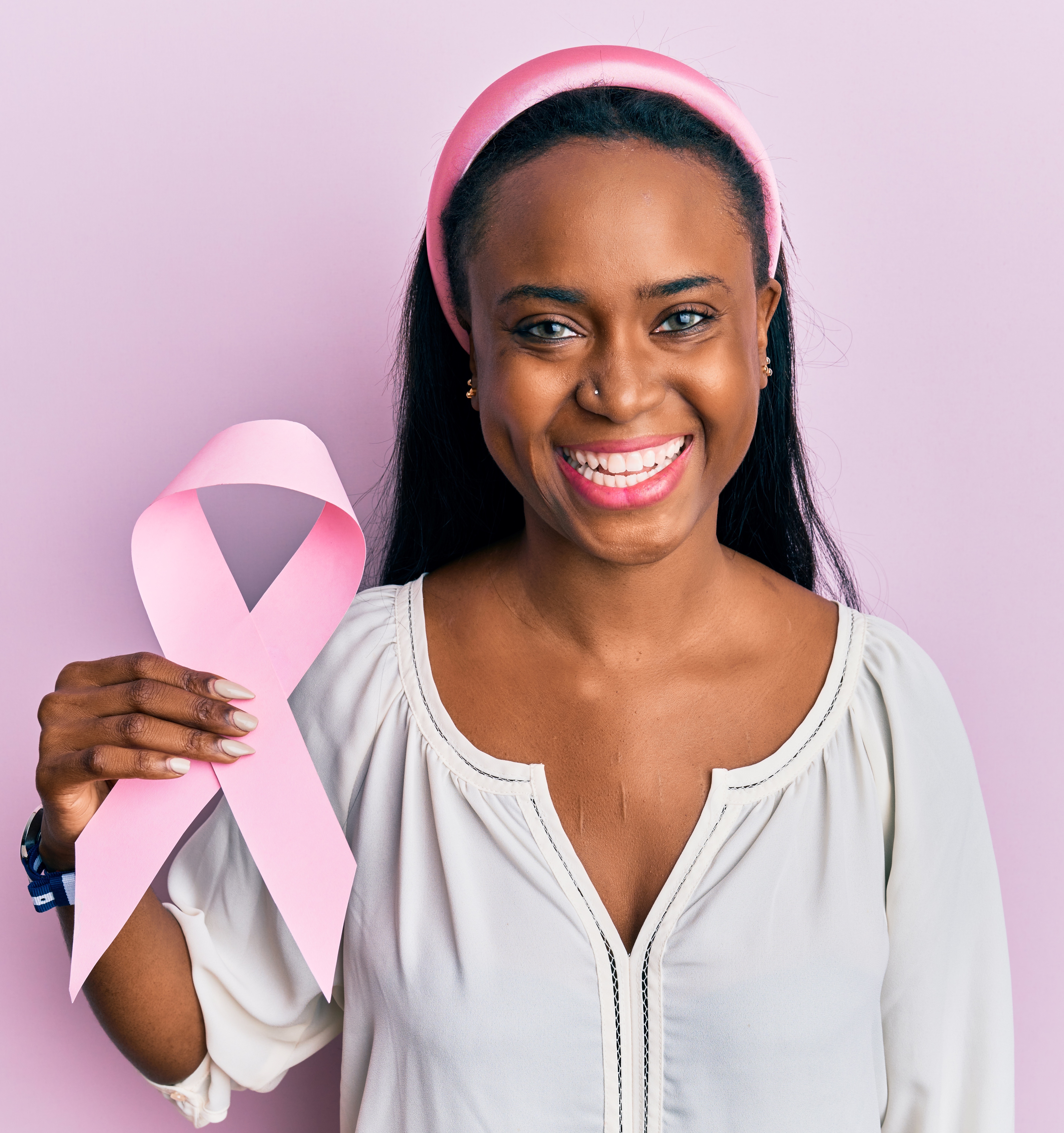 What's the risk? Dense breasts lower the sensitivity of a mammogram. "Think of dense breasts as a cloudy day," Laura said. "On a sunny day, you can see a plane in the sky. On a partly cloudy day, you can see part of a plane. But on a cloudy day, you can't see what's behind those clouds. You need something more." That something more is usually a 3D mammogram or supplemental screening with ultrasound.
When you get your mammogram results, ask for disclosure of how dense your breasts are (although that disclosure may not be available in your state). "It's still worth it to ask," Laura said. "Have a conversation with your physician. Try to look deeper."
Don't be shy about self-exams.
In Laura's case, the radiologist missed the plane behind the clouds. She wasn't referred for additional screening and an ultrasound or MRI. She discovered her cancer on her own.
"Five months after my mammogram, I was doing a self exam and found a lump that ended up being cancerous, " she said. "It led me to chemotherapy, surgery, radiation and targeted therapy for a year after that." A year later, Laura's cancer returned, and it had metastasized to her brain.
"You know what you look like, so it's important to do regular self exams by both looking at and touching your breasts," said Laura. "Examine the area from your collarbone to underneath your arm, and if you notice something isn't right, contact your doctor."
Ask for more from your doctor.
Since just being a Black woman means increased risk, Black women have every reason to ask their doctors to help them understand their risks.
"Share your family history and lifestyle factors with your physician and find out what it means for you," Laura said. "It might mean you need services such as genetic testing or additional monitoring." Here are some important questions to ask, before and after a diagnosis:

Would it be wise for me to have genetic testing?
Am I eligible for a 3D mammogram or supplemental screening with ultrasound?
What's the nature of my tumor? What's causing the mutation?
What treatments and therapies will work best for me as a Black woman?
Am I eligible for a clinical trial?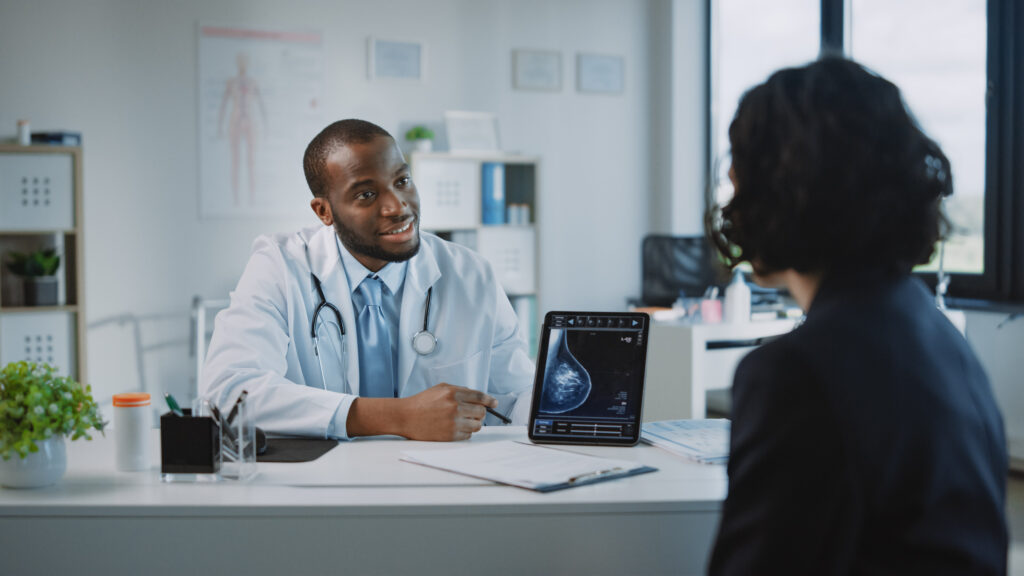 Become an advocate and an ally.
We often hear that disparity in health care is driven by social determinants of health such as income, food security, access to reliable transportation and insurance coverage. But social determinants aren't the only factor. There are disparities at the practitioner level — in prescribing patterns, treatments and outcomes.
"If I walk in the door as a Black woman and someone else walks in the door, is the standard of care the same? Not always," Laura said.
We can help physicians see what disparity looks like. "Sometimes this comes down to challenging doctors to be equitable in their treatment, in their ordering patterns, in their inclusion in clinical trials, in their testing," Laura said. "I ask physicians to think back to the last 10 patients they treated with the same condition. Did they have the same recommendation for treatment? I ask them to look back at the last patients they referred to clinical trials. What did they look like? What about the last 10 patients that they referred for testing?"
Most oncologists went into the profession because they wanted to change the world for the better. Help them do that for everyone.
What you can do.
Love and support Black women on their journey to fight and conquer this disease. "Don't be a reservoir, be a river," Laura said. "Share what you know at a community group, a faith-based group or a health fair. Give life to someone else." Complete Touch4Life's Patient Advocacy Guide to Talk to Your Doctor About Genomic and Genetic Tests. Visit Touch4Life to learn about the Soul Filling Our Sisters group, Black Genes Matter™ and other helpful and inspiring resources.
Another way to acknowledge and champion Black women in their journey: Sista Strut Breast Cancer Walks. You and your organization can take part in 3K walks in cities across the United States. The walks benefit local nonprofit organizations. There are still seven walks planned for October — in Jacksonville, Florida; St. Louis; Chicago; Milwaukee; Detroit; Louisville, Kentucky; and Indianapolis. Check out the Sista Strut playlist on the website. It's awesome! That music really makes you want to move.