The future is here. We find ourselves in an environment where questions that used to take hours, days, and even months to research are now available in a matter of seconds. The world of AI and ChatGPT has quickly shown us how far things have changed.
The question we now ask is, "What are the roles minorities play in shaping the future of Sports, Technology, Health, Finance & other sectors?" Ensuring we see more people of color in decision-making positions will be critical in mapping out concrete steps for full participation in this fast-evolving world.
Seeing executives like Heidi, CCO of Concacaf leading the charge of growing soccer across North America, Central America, and the Caribbean is an illustration of how minorities are making a difference in the spaces they occupy.
This seems like the perfect time for us to reflect on what foundations we are laying to drive equitable representation for years to come.
As business leaders, it's important for us to build the pipeline of talent to deliver for the future. A key proponent of achieving this is focusing on collaboration.
Although unpleasant to admit, as people of color we are often fragmented and operate in silos according to our comfort level. In putting together this issue, we came across many businesses that are doing a lot right – by focusing on the vision of progress, growth, and impact, these leaders and organizations have listened well, and have come to a shared understanding despite their apparent differences.

Building stronger, more sustainable companies and organizations is not just for ourselves but for those who will come after us.
As Gabrielle Wyatt noted, "It's important to look beyond a 3 generation horizon."
The rise of technology is providing a platform to make exponential gains, as business leaders it is incumbent on us to make the necessary investments to ensure a more equitable future.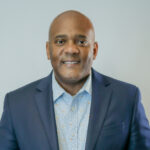 Robert is proud to lead one of the country's oldest and most respected African-American newspapers as well as two minority business magazines.