Gabrielle Wyatt, CEO of the Highland Project met with us and and highlighted the importance of investing in women of color as an economic benefit in addition to a social one.
The drive you have to help your community, is that something your parents instilled in you? 
I've always had a passion for catalyzing thriving Black communities—it's deeply rooted in my family's own legacy. My parents, who met teaching back in Baltimore, were educators who deeply believed in the brilliance of every single student in their classrooms. They taught my sisters and me that we were worthy of our brilliance as biracial Black girls and that we were worthy of being seen. And so from a young age, we felt a deep sense of responsibility in actualizing and investing in the brilliance of Black communities. I'm proud to carry that as my own legacy.
As a leader, what do you believe are the tenets of successful leadership?
I deeply believe in The Highland Project's grounding values as key to sustained leadership:
Sustainability: Multi-generational change is only possible if we are able to sustain ourselves through it. So being a successful leader means living (and modeling) healing, well-being, and community.
Rootedness: Multi-generational change is rooted in evidence and community voice, experience, and creativity.
Adaptability: To lead, one must be able to embrace learning and intentionally adjust to changing conditions. There is never a linear path to leading multi-generational change. As leaders, it's important to stay open to what's ahead.
Legacy: A successful leader holds an inspiring and audacious vision for change, and understands that they aren't built to hold it all. Instead, they recognize we only get to places of possibility together, and that means tapping into other stakeholders and identity groups to form a collaborative leadership model.
What have you found to be the most rewarding aspect of your work?
To be honest, my favorite part of meeting with Highland Leaders in person is the inevitable moment when we hear someone snoring in a rest session! It makes my heart flutter to hear and see a powerful Black woman leader feel safe enough to prioritize and practice rest. I believe everything begins and ends with a sustained Black woman leader, and so at The Highland Project, we prioritize supporting leaders in their own rest and sustainability journeys. Watching (and listening) to folks first resist and then surrender over time to this has been deeply rewarding.
Are there moments in your journey where you have felt like giving up?
At this point in my legacy building, there are points where I find myself uncertain about a path ahead. And when I'm in that place, I know that I have two options—to fall back into habits rooted in a scarcity mindset or to center abundance and possibility. When I'm in a place of scarcity, everything is impacted. My vision is blurry, completing tasks becomes longer and it can feel like I'm never going to turn the page. Like every entrepreneur, I can find myself in this place in different ways. But I've cultivated practices to support me in these moments, and when practiced consistently, the ideas of abundance and possibility become so much more accessible.
First, I begin my days in stillness. I hydrate my body with plenty of water and begin a gratitude practice of either journaling or reading a poem. Afterwards, I spend time walking in Central Park with my headphones off and my phone tucked away. It is so important to be in touch with your inner voice and breath, especially as a leader. My mornings have become sacred in this way.
Second, my team and I practice what we preach with leaders—we plan to look seven generations ahead. By thinking from a place of abundance, we are grounded in all that can be possible. From there, we work backward and think more strategically about how we intend to move our visions. When confronted with barriers or constraints, we ask ourselves: does it have to be this way?
Finally, alongside my team, I practice exploring my relationship with rest. Often, feelings of giving up and weariness are rooted in tired eyes.
---

Rest is a place of power and clarity.

---
Your view on investing in women of color suggests that this is beneficial to the economy, why is there still so little progress if the statistics speak otherwise?
There is an urgent need to redefine what wealth means in America. At The Highland Project, we know it is more than dollars in pockets. It's about removing any barrier that hinders opportunity. It's about building new systems that heal us, and breaking down systems that harm us.
---

For generations, Black women have planted and sown the seeds for great social change in our country. And while we have seen more recognition of our work in just the last few years, our needs, concerns and dreams remain unseen. It's time that we center Black women, our voices and our leadership.

---
At The Highland Project, we are building a coalition of phenomenal Black women from all sectors that are key to creating multi-generational wealth, and investing in these women with capital and community care. Through these spaces, we believe—and we know—that together, we have infinite possibilities.
How does the Highland Project address systemic issues and provide a sustainable solution for the community it serves?
Sustainable change begins and ends with a sustained leader. At The Highland Project, we believe it's critical to reimagine what it means to invest in Black women — and it starts with seeing their humanity.
These last few years of the pandemic, particularly, we have seen Black women being tapped to lead systemic change. But we have also seen the lack of resources, support and community that has been provided to help them be successful. As a result, Black women are experiencing significant levels of burnout, and some are even leaving their roles altogether.
To truly invest in building a prosperous America, our humanity must be seen, valued and not taken for granted. At The Highland Project, we create spaces where Black leaders can breathe, restore and take up space.
But investing in Black women also means giving them the capital needed to reimagine new systems that historically build multi-generational wealth. In addition to providing a restorative space, we give each leader $100,000 direct, unrestricted funding to scale their vision. By co-powering their visions from a place of abundance, we are able to dream and achieve infinite possibilities.
When you were a young girl growing up, what did you envision your future looking like?
Honestly, I thought I was going to be a school Superintendent back in Maryland – and who knows, maybe I still will be!
---

But here's what I wish my younger self knew: I wish she knew it was less about selecting a specific role or career when asked about her future plans. I wish my younger self was asked more about the legacy she wanted to create.

---
And if she had been asked, I believe she'd begin to paint a picture of: a legacy deeply rooted in love and respect for her lineage and ancestors. A legacy that prioritized her own self-care, sustainability, creativity, and imagination as a biracial Black girl. A legacy that transformed how Black communities were invested in. I think it is incredibly important from school-age to adulthood that we legacy plan—that we build a vision for a future just beyond our reach and pursue a set of intentions and practices that actualize that vision.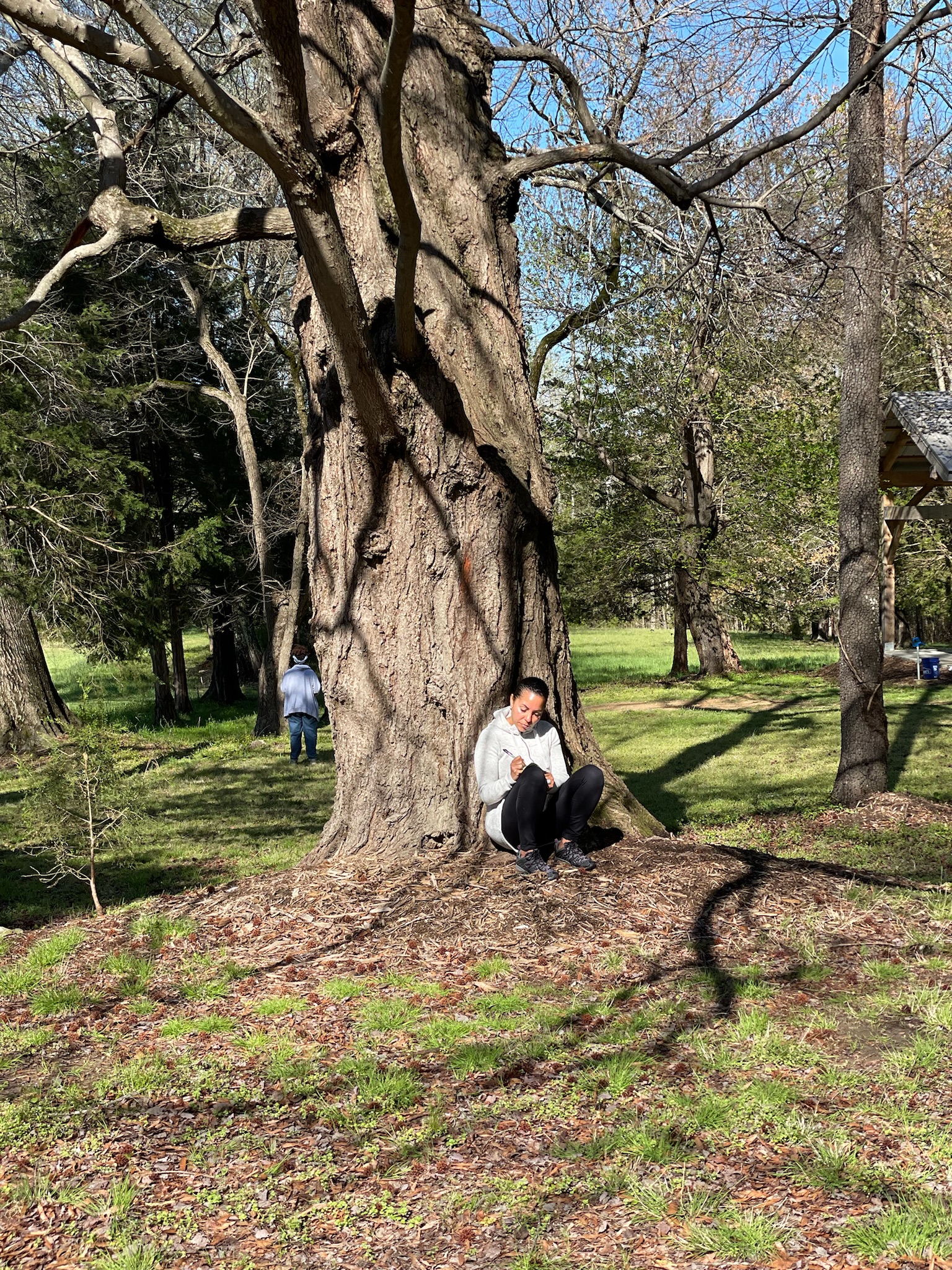 What song can you be found listening to at any given time?
Golden by Jill Scott
What book can always be found on your bookshelf?
Gather by Octavia Raheem
ABOUT GABRIELLE
Gabrielle founded The Highland Project in October 2020, an organization focused on building and sustaining a pipeline of Black women leading communities, institutions, and systems, resulting in the creation of multi-generational wealth and change in their communities.
Prior to founding The Highland Project, Gabrielle led major change initiatives in our nation's largest and most complex school systems and shaped the investment strategy of leading national philanthropic initiatives. Most recently, she was a Partner at The City Fund, founded by leading national philanthropists to support local education leaders to build local movements for systemic change in education. Gabrielle supported local education leaders across the nation to expand opportunities for students in public schools through strategic advising,
board service, and philanthropic investments. During her tenure, Wyatt launched the City Leadership Fellowship, an executive leadership development program focused on empowering Black and Latinx leaders pursuing bold education visions. Before joining The City Fund, Gabrielle was the Chief Strategy Officer at Civic Builders. A non-profit focused on solving the facilities challenge for high quality charter schools. Gabrielle led partnerships with the Walton Family Foundation and Laura and John Arnold Foundation to launch three national
facilities funds to support growing high performing public schools.
Gabrielle is the former Executive Director of Strategy for Newark Public Schools,
New Jersey's largest school district. She led the district's efforts to increase access to high-quality public schools, enrollment, and financial strategy. As a result of the district's focus on increasing students and opportunities in public schools, a recent study by CREDO at Stanford found Newark students are posting learning gains that outpace the state's best-in-the-nation public school system. Previously, Gabrielle was the Associate Director of Portfolio Planning at the NYCDOE.
As a Baltimore native, Gabrielle began her career as a Baltimore County Public Schools Board of Education member. Gabrielle is a graduate of the University of Maryland, Baltimore County and the Harvard Kennedy School. Gabrielle Wyatt is the proud daughter of two Baltimore educators, Mary Alice Thomas and Quentin Wyatt.