Real cooking is more about following your heart, than following your recipes.
When you walk through the doors of Avanzare, it's not only the scent that makes you want to stay, but the instant feeling of home away from home. Avanzare is the embodiment of hospitality in the heart of the Ozarks and beyond. Hospitality is a part of its values, vision and truly, and the foundation of its immense success in the past two decades. Located at the Plaza, on Glenstone and Sunshine, Avanzare has opened its doors to welcome numerous guests, to provide a first-class experience for everyone who wishes to have a combination of the best haûte cuisine and the familiarity of being among caring and authentic hosts. Avanzare's has made its own branding by achieving the art of cooking in every single one of the dishes they serve. At Avanzare Italian Dining, guests will encounter the true pleasure of gastronomy while being given an exceptional warmth, sense of home and special treatment. Avanzare has become a hub for families and friends, where some of the people who have entered as guests have become part of the García family throughout the years. Avanzare has teamed up with the community, and is certainly one of the gems we have in 417 land.
Tony's love for cooking was acquired as an inheritance from his family, mainly his father. Don Gregorio García taught his sons the love for cookery and entertaining. "My dad used to take us hunting and the fun part was the preparation of the prey caught and the mixing of the flavors was always a treat for us". Tony is originally from Jalisco, Mexico, a full-blooded Spaniard, born in Mexico, he has now double nationality. He was raised in a small town, where he learned to love nature, traditions, food and family. Tony's favorite aspect while growing up was dancing and riding horses.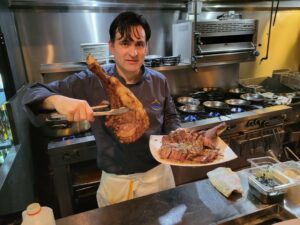 Tony moved to the United States early in his career, his uncle took him under his wing and Tony was able to use and expand his skill set knowing and getting to know the logistics of the kitchen structure upside down. Tony's inherent ability to turn food into art was evident for everyone, and he quickly caught the attention of customers and made a name of his own.  Tony was doing well in Chicago, and he seemed to have a fabulous future ahead of him in the Windy City, however, destiny had different plans. Among his guests in Chicago, there was a businessman from Springfield who offered him an opportunity to move to Springfield to explore new adventures. "It was a big change", Tony states.
As a native of Mexico, Tony realized the need for diversity in Springfield and thought this might be a challenge for his family to adjust. Nevertheless, Tony's resilience and creativity came handy, again, Tony's flavor opened a path for him and his family in the 417 area. "There is nothing, but to look forward", has been Tony's motto in life, hence the name, "Avanzare", which means to advance or to move forward in Italian, was born in the Spring of 2002. 
Tony's principles and values have always been his core and force. His wife Carmen, his two younger brothers Chuy and Mauricio were part of his unconditional team as they embraced the family business journey. Later, his extended family moved along with them to the United States, and his parents Goyo and Martha, came to become an essential part of the restaurant life. Tony and Chuy have been inseparable since they were children, and they enjoy spending time together inventing and developing new dishes and making each other laugh. Tony met his wife Carmen in 1994 in Chicago and they got married in 1996. They now have three children, Yahaira, Yael and Julia, and one grandson Abrian who are their biggest treasure. Until this day, Tony assures that Carmen has been the best decision best life and his greatest accomplishment in life, "without her, nothing would have happened the way it has".
Success has been a constant in Tony's life. Avanzare is known for having a waiting list regardless of the day of the week. "Word of mouth has been the best advertisement the business has" expresses Tony. He is grateful for the loyalty of his customers, but he also acknowledges the sacrifices the family and extended family has made to make a name for Avanzare. In 2013, Tony was recognized as one of the Restaurateurs of the year from the Missouri Restaurant Association. Tony is also an ambassador for renowned brands such as Sterling Silver Premium Meat which is one of the best beef qualities worldwide. In 2018, this brand recognized him as a champion during the Signature Chef Competition. Avanzare has also been featured several times as one of the best in local magazines that highlight his gastronomic skills as a chef and businessman.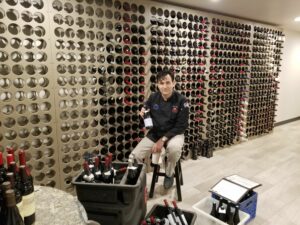 Tony's charisma and ability to turn food into art are not his only assets. He and his family have become community members who are always seeking opportunities to give back to the community to make 417 land a better and inclusive place for everyone.  He has been a great supporter of the Hope Foundation, he has aided the Cattle Barons Ball of Southwest Missouri and has also made contributions to the Public Broadcasting Television in town. Tony has also been active in local television, performing for cooking competitions and shows to demonstrate and share his exquisite recipes that make Avanzare unique. Tony is known to have a generous and humane personality.
As a member of the area, he doesn't only provide work opportunities for others, but he also seeks to contribute to nonprofit organizations, and associations that improve our society.  "I love the Ozarks, this is where my family lives, and I will always work to make it the best home for my children and grandchildren", states the chef.  He has participated as a yearly sponsor of Ball of the Wild among others. The community knows Tony as a great donor for several local events that take place in the Latinx community, and he is always happy to serve as a resource for them.  
 Vino might be Tony's middle name. He is not only a great connoisseur, but a lover of vinification. He fell in love with the best, and his taste is undebatable. One could say that after his family and work, Tony enjoys having a good wine with friends and family.  Tony's enthusiasm for wine started in the early 2000. "I had awesome sommelier mentors, who taught me to savor the best ", Tony indicates. Among the favorites on his list will always be Italian wines such as Barolo, Barbaresco, and Brunello.  Avanzare has become a popular place for wine tastings and great vineyards to visit, and Tony is the best advisor for food and wine pairings. At Avanzare you can be assured of servings that are both plentiful and flavorful.  
Tony's customers can't get enough of his signature dishes, once they try them, there is no comparison to the high standard. Avanzare is known for making almost everything by scratch, which is a part of his philosophy and the family prides itself on this artistic work.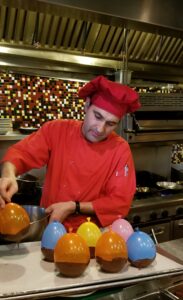 Goyo, Tony's father, is the backbone of the restaurant. Although everyone, or almost everyone in the family cooks, Goyo is charged with making homemade bread every morning. He arrives at the restaurant at seven in the morning to make the baguettes and the most delicious focaccia, the unique lasagna, homemade pastas, all the stocks and the sauces for the dishes. Tony and Chuy work on the steaks and the seafood – they work side by side to find the exact mixture of flavors, and temperature until perfection. 
Recently, Carmen and Tony decided to take on a new challenge. They are planning a move to Fremont and Erie. The new location is Tony's dream's restaurant. "I pictured my restaurant this way a long time ago", explains Tony. The size and location add to his usual excitement which is beyond limits for their new home. "This is a huge challenge for us" states Carmen. They have, however, always overcome obstacles and challenges as a family, and look forward to the future with great hope. Carmen and Tony know that they have loyal patrons that will continue to want to enjoy the García's Haûte Cuisine and kind company, and they trust this is the perfect timing for the move and growth.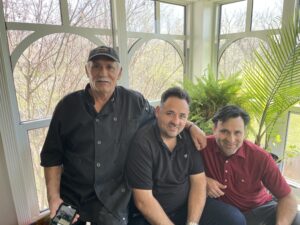 Although Tony can count many successes in his life as a chef and businessman, his greatest success is his love for his family. Carmen and Tony have taught their children love for restaurant life. Yahaira and Yael are highly involved in the business and understand the legacy their parents have built. They both combine schooling with hospitality and are very proud of his family and the hard-work culture they have inherited. Three generations working at the restaurant is one of the examples of a genuine family local business that serves the community with excellence and love.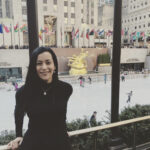 Judith Martínez, PhD. is currently an Associate Professor of Literature.  She has served as the Provost Fellow for Faculty Development.  She has been recognized for her research, teaching, and service. Judith was the recipient of the University Research award, as well as the Board of Governors recognition for her leadership and community involvement.